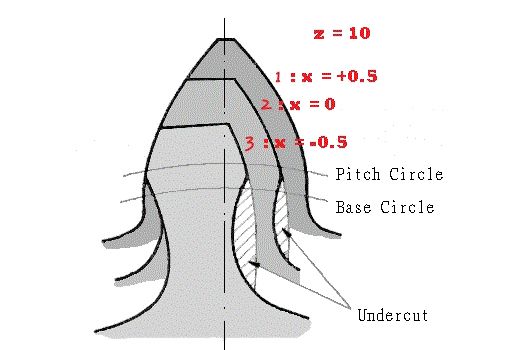 What does Gear profile shift refer to?
Gears can meet the following two requirements through profile shift design:
1. Improve gear strength:
The fewer gear teeth, the thinner root thickness and with the lower gear strength.
Taking a spur gear with 0 shifting coefficient as an example, if the number of teeth is less than 17 teeth, the root of the tooth will be undercut ..
The positive shifting coefficient design can increase the root thickness and improve the gear strength.

2. Change the center distance:
If the sum of the profile shift of the active and passive gear sets is positive, the center distance can be increased.
Negative values should reduce the center distance.
It is often used to adjust the helical gear set center distance, Because the center distance of the gear set with 0 profile shift is non-integer, the center distance can be adjusted to be an integer through profile shift.
Besides, although the positive profile shift design could increase strength, the tooth tip will become sharper if it exceeds a certain value; If the negative profile shift exceeds a certain value, the tooth root will undercut.
---