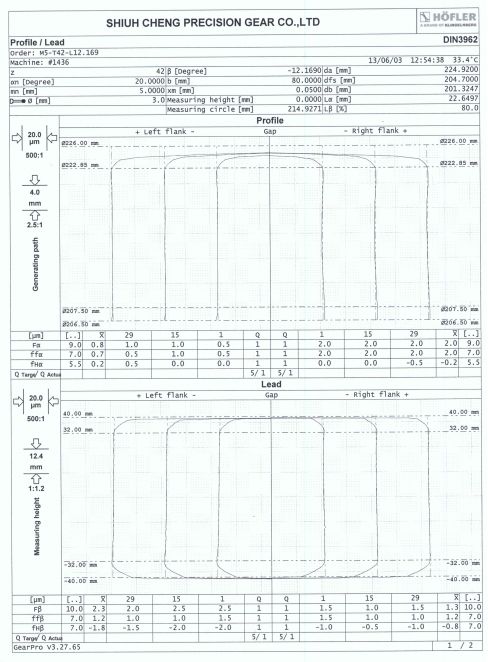 What is the gear accuracy? Which gear accuracy standards are most commonly used?
Gear accuracy is judged by the error level. The accuracy consists of three components, namely the tooth profile (ie the pressure angle), the Lead (ie the helix angle) and the pitch.
Attached is an example of a tooth measuring report.
The most commonly used standard in Taiwan is the Japanese standard JIS, followed by the German standard DIN.
Because Shiuh Cheng gear grinding machine is a German brand, the accuracy report provided is preset to the German DIN standard.
The following chart is a comparison table of JIS, DIN, AGMA standards.
The smaller the accuracy grade number of JIS and DIN standards, means the higher gear accuracy;
The AGMA standard is opposite.
The gear accuracy 'DIN 1 to DIN 4' is mainly used for master gears, quality 'DIN 5 to DIN 6' is used for precision gears.
---
Country
Type
Precision Grade
U.S.A.
AGMA
 
16
15
14
13
12
11
10
9
8
7
6
JAPAN
JIS
 
 
 
0
1
2
3
4
5
6
7
8
Germany
DIN
1
2
3
4
5
6
7
8
9
10
11
12